Moroccan official criticized Reporters Without Borders's report on Freedom of Press in Morocco
By Anouar Mzoudi
Ithaca, USA–Mr. Mustapha El Khalfi, minister of communication, criticized on Thursday the report of Reporters Without Borders on freedom of press in Morocco. "The report doesn't reflect the efforts of Morocco to improve the condition of freedoms both at the legal and practical levels", said Mr. El Khalfi.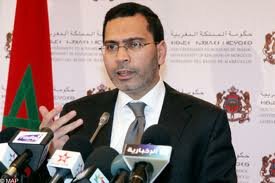 Mr. El Khalfi noted though that the report mentioned that Morocco's international rank in the field of freedom of press has improved.  "The latter, however, is a partial acknowledgement that doesn't reflect the reality of the transformations that Morocco is going through" indicated Mr. El Khalfi.
Mr. El Khalfi also indicated that the government is going to prepare a report about the freedom of press in the country. The report will be available in February 2013 according to the minister. "Morocco has made considerable efforts, especially by the signing of international agreements and protocols related to the promotion of freedoms and human rights—signing these agreements will have a direct and positive impact on the condition of freedom of press in Morocco", Mr. El Khalifi added.
Reporters Without Border's report stated "Morocco fell again, this time from 135th to 138th, as a result of Al-Massae editor Rachid Nini's imprisonment"
 "the Moroccan authorities assume the right to censor some foreign publications if their content displeases them"
It is worth mentioning that Human Rights Watch report 2013 on Morocco issued Thursday was similar to the one of Reporters Without Borders.
In our review of the report Morocco News Tribune included a section on the issue of media freedom, in which "the latter seems to be enjoying some sort of "glory days" compared to years before. But, this freedom has though some limits and certain red lines, Watch said.
In fact, the press law includes, the report said, "prison terms for "maliciously" spreading "false information" likely to disturb the public order or for speech that is defamatory, offensive to members of the royal family; or that undermines "Islam, the institution of the monarchy, or territorial integrity," that is, Morocco's claim on Western Sahara"
Rachid Nini, a Moroccan famous columnist and editor, was cited for his famous case. Mr. Ninib had to serve a one-year prison sentence on charges, "based on his articles, of attempting to influence judicial decisions, showing contempt for judicial decisions, and falsely accusing public officials of crimes"
Also, the report pointed to the case of rap musician Mouad Belghouat (known as "al-Haqed"—the sullen one) who was convicted and sentenced to one year in prison for insulting the police in the lyrics of one of his songs"

Print