Unique Invention by Moroccan Students
---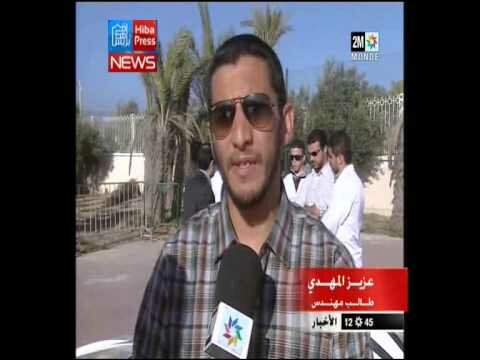 ---
By Mohamed Hikal
Moroco News Tribune
Taroudant, Morocco| In collaboration with ENIM (Ecole Nationale d'Ingenieurs de Metz), a number of Moroccan students from the Polytechnical School in Agadir put the finishing touches on a sport car prototype.
This prototype is the fruit of a continuous and diligent work of over 18 months that started June, 2011.
The unique initiative is described as the pride of the student engineers of the aforementioned institution, said a report by the Moroccan channel 2M.
According to Iliass Majdouline, Polytechnical school director and the project supervisor, strength, power and design are elements that had been considered while the car was being manufactured, so that it could be practical on race tracks.
The hard work and determination invested in the project culminated in an amazing work: a finely and beautifully designed sport car with a fiber-made body and a powerful engine that could compete with cars of the same kind on an international level.
"This work came to prove that the Moroccan student is able to get on large -scale research projects," said Aziz Elmahdi, a student engineer.
"Financial support is among the major constraint we faced during the manufacture of this car. We received no financial support, neither regionally or nationally," said Imad Wahbi, student engineer.
"Further projects will be considered, namely a four-drive vehicle project that will be launched in a few months' time," he added.
This kind of initiatives is a plus to the Moroccan scientific research. However, the government has to give credit to such efforts and provide all kinds of support as an incentive to further researches and projects of this kind.

Print