Turkey Embraces The Syrian Refugees As Their Own Family Members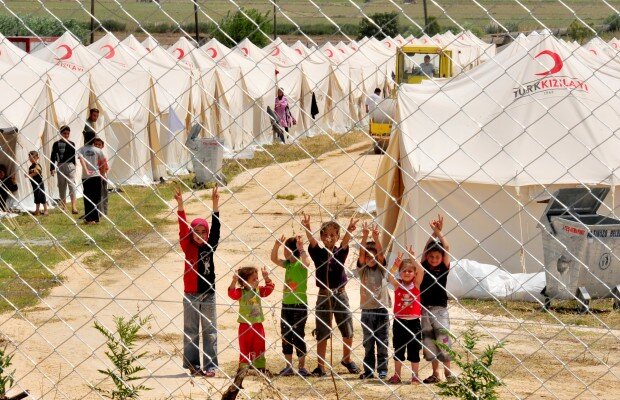 ---
By Ece Koç*
Morocco News Tribune
Ankara, Turkey | In Turkey, there are now four hundred thousand Syrian refugees; 200,000 are staying in camps while some 200,000 are living in Turkish cities renting apartments. People in Syria are suffering terribly: They are emigrating en masse to neighboring countries. Turkey is doing its best to meet the needs of our Syrian brothers and sisters. According to the Emergency and Disaster Recovery Office of Turkey, the Turkish government has spent 1.5 billion US dollars for Syrian refugees so far. The UN officers said that they 'were very moved to see the Turkish officials' commitment to 'help the Syrian refugees as if they were their own siblings' and said that Turkey 'was a great example to the whole world'. Turkey uses every means available to help Syrian refugees and we are keenly aware that this is not an easy process for the Syrian refugees.
It has been almost two years and they have been in the camps for that time;. it is not an easy life at all. Most of these people had good careers, families and good houses in Syria. However, due to Assad's brutal regime, they left their homes without looking back. They chose to survive in another country as refugees. They could not bear to be tortured, raped or seeing the loved ones killed before their very eyes.
However, an unexpected thing happaned and after the recent Reyhanlı explosions, 'a reverse migration took place', with people going back right into the middle of war, tyranny and massacres. They didn't want to face backlash after the Reyhanlı explosions because some locals in Reyhanlı, very wrongly said that they no longer want the Syrian refugees. That made 250 innocent people go back to their nation of constant turmoil and killings.
This rising hostility of some Turkish citizens towards the Syrian refugees in Turkey is entirely unacceptable. We should never utter such words to our guests. Some people make an unbelievable mistake of blaming these people who have fled for their lives for what happened. It should not be forgotten that those people left their countries, their homes, jobs and everything they had in order to save their lives and to protect their loved ones. Although I am very happy and proud that my country graciously opened its doors to them, and welcomed some 400,000 people and provided the best hospitality it could, there are still some unpleasant voices speaking words of hatred. There is nothing that can ever justify being hostile to those people that are in need of our help.
The best answer to such hatred would be opening the border with Syria. All the political parties should show their support to such an idea and then welcome our Syrian siblings and welcome them permanently, not merely as refugees. We should actually make them citizens there. We should make them locals of Hatay without further ado.
And those war-mongers should contemplate the manner in which they would have acted if they were in the same place as the Syrian refugees: Fleeing to save your life, your family's life, and then someone is kind enough to open a door for you. You as a refugee are already feeling that you owe a great deal to the host, but then someone from the household blames you for theft in the house. I urge those war-mongers to heed their conscience; if they believe in Allah, then they should know that Allah orders us in the Qur'an to offer shelter
and protection to those who are seeking shelter, even if means that we will risk our own lives in the process.
They give food, despite their love for it, to the poor and orphans and captives. (Surah Al-Insan, 8)
Those who were already settled in the abode, and in belief, before they came, love those who have emigrated to them and do not find in their hearts any need for what they have been given and prefer them to themselves even if they themselves are needy. It is the people who are safe-guarded from the avarice of their own selveswho are successful. (Surah Al-Hasr, 9)
And even if some of these people have no faith in Islam, they should have at least some kind of moral values that they should abide by, remembering that 'what goes around comes around'. They might one day need the help of those very people that they have turned a blind eye to.
Today there are fifty million refugees in the world, of which the majority consists of Muslims, according to UN reports. The Muslims who have decided to leave their countries and become refugees are largely from Iraq, Myanmar, Afghanistan, Kashmir, Somali and Arakan and some two thirds of Palestinians are also living in other countries as refugees.

Print