Tunisia: Standing Up To The Salafists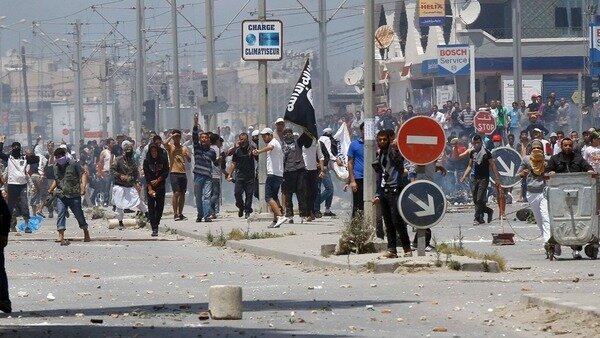 ---
By Colin Kilkelly
Morocco News Tribune
Marrakech, Morocco|The Tunisian government took the decision to ban the Ansar Sharia conference which the Al Qaeda linked organization had announced would be held today in Kairouan. The decision was taken by the Interior Ministry on Friday 17 May on the basis that the event ,which was billed as attracting 40,000 Salafists was "a threat to security and public order."
The Enhadda led government has been accused of being soft on Salafists who took to the streets armed with swords and sticks to enforce their version of extreme Islamic dogma by attacking women not wearing the veil, smashing shops selling alcohol and breaking up art exhibitions and music festivals they deemed unislamic. Salafists have waged an extensive campaign to take over mosques throughout Tunisia. They attacked police stations and finally the police shot back when their barracks were attacked in Jendouba.
Then the American Embassy was attacked by Salafists and Ansar Sharia's leader went into hiding.
This was a key turning point because Tunisia's political leaders realised that attacks like this could not go on. Leaders including President Moncef Marzouki and the leader of Ennhada Rachid Ghannouchi both condemned the attack on the US embassy. Then the assassination of left wing Chokri Belaid caused shock waves around the world and forced a change of government under a new Prime Minister Ali Larradeyh ,with independents taking over key ministries rather than Ennhada politicians, although Ennhada remains the leading political party in the National Constituent Assembly.
It was Rachid Ghannouchi who blamed Salafists for the death of a police inspector whose mutilated body was found in May. It was becoming clear that there was a threat to undermine and even take over the state. He announced that the government would ban the Ansar Sharia conference and the Minister of the Interior confirmed that no official request to hold the conference had been received.
Ennahdha long accused of laxity for tolerating the jihadist factions, has significantly hardened its position since 16 soldiers and police were injured between late April and early May by mines laid by armed groups close to the border with Algeria in the area of Jebel Chaambi. The security forces have been engaging jihadists in the area between Le Klef and Jendouba and despite early official denials
a terrorist training camp was found and there are probably others in the Jebel Chaambi reserve which has many caves where Jihadis can hide.The use of mines is especially worrying and the Jihadis said to be linked to the Okba Ibn Nafaa Katiba are affiliated to AQIM according to Jeune Afrique which reports dissatisfaction amongst the security services with the control and leadership of anti terrorist operations. Police earlier went on strike caught between violent salafist attacks and what they claimed was indecisive government support for the police.
It is now apparent just how dangerous and pervasive these groups of Salafists and Jihadi's linked to AQIM are. The head of the Salafi jihadist movement Ansar al-Sharia, Abu Iyadh, threatened to wage war on the government led by the Islamist party Ennahdha, which it accuses of conducting a policy contrary to Islam.
"We are not asking permission from the government to preach the word of God and we warn against any police intervention to prevent the congress from taking place," spokesman for Ansar Sharia Seifeddine Rais said on Thursday. He was reported to have been arrested later.
The government on Friday said it was banning Ansar al-Sharia from gathering in Kairouan because it had "shown disdain for state institutions, incited violence against them and poses a threat to public security".
Hundreds of supporters of Tunisia's Ansar al-Sharia clashed with police in Kairouan and on the outskirts of the capital today, Sunday (May 19th), AFP reported.
More than 11,000 security officers were deployed to the holy city of Kairouan, according to Shems FM.Ansar Sharia , blocked from holding its event in Kairouan called on their followers on its official Facebook page to demonstrate in the Ettadhamen district of Tunis where reports said some 500 salafists clashed with police setting fire to tyres in the road and hurled rocks at police. The police fired tear gas and shots in the air. "During the protests, eleven security personnel were injured, one seriously, and three protesters, including one seriously injured," the Interior Ministry said, which refers refers to "more than 700 (…) Islamic extremists" equipped with "incendiary mixtures, projectiles and knives." TAP reported.
Calm returned to Kairouan about 4pm, no details of arrests of Ansar Sharia have been released as yet.
The leader of Ansar al-Sharia, Saif Allah Bin Hussein alias Abu Iyadh is an Afghanistan veteran who fought with Al-Qaeda. Reports from Tunisia and Syria have highlighted the large number of young Tunisians fighting with the Syrian rebels who have also been joined by Al Quaeda linked
organizations. After the Afghan war large numbers of Al Qaeda trained fighters returned to Saudi Arabia and other countries and then began a struggle against governments using terrorist techniques they had learnt in the fighting. The same phenomenon is likely to occur following the Syrian conflict.
Tunisia is not in finding attempts to establish terrorist training camps on its territory. Morocco earlier this week reported the dismantlement of two terrorist groups near Nador in the north which were apparently seeking to set up a base in nearby mountains reported the Ministry of Interior according to MAP.

Print
1,898 views