Moroccan cuisine: Zaalouk recipe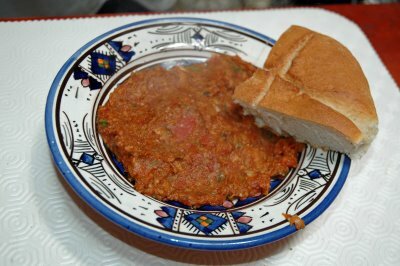 Try this Moroccan side dish or salad. It is called Zaalouk (the paste) . Zaalouk is a yummy cooked mix made with roasted or grilled eggplant, tomatoes, garlic, olive oil and a mix of spices. It is usually served as a side dish with bread (for dipping).
*Preparation time 25 minutes
*Ingredients:
1- One large eggplant (roasted or grilled and peeled)
2- 3 large tomatoes (peeled and chopped)
3-2 large cloves of garlic (pressed)
4- 1 third of a cup of chopped parsley
5- Spices: 1 tsp of each of the following: cumin, paprika, salt and half a tsp of black pepper
6- 1/4cup of olive oil
7- 1/3 cup of water
8- Half a lemon (optional)
Preparation:
Roast or the grill the eggplant until the skin gets crispy and the inside gets soft. Peel the eggplant and chop it. In a saucepan sauté all the ingredients for a few minutes and then add the eggplant. Use a spoon to crush and blend the eggplant and make sure that it is well mixed with the tomatoes.  Continue to simmer until the liquid is absorbed. Serve warm or cold. Squeeze some lemon on top if desired.
Enjoy!
Recipe by Anouar Mzoudi

Print